Online Lunch & Learn: Your Path to a Healthy Business
Reduce hazardous chemicals to protect your customers and staff
We invite you to join us for lunchtime webinars on reducing hazardous chemicals when choosing cleaning products, food packaging and foodware. These decisions impact the health of your customers, your staff, and the integrity of your brand.
Scroll below for details on both webinars including speaker bios.
Wednesday, May 23rd 12pm-1pm: Clean without Harm
Cleaning products in your place of business likely contain chemicals that are hazardous to your employees, your customers, and yourself. Join us for an in-depth webinar on which chemicals to avoid and why. Experts will provide case studies, purchasing strategies, and business resources to help you make the right choices to safeguard your community and environment.
Speakers

Bobbi Wilding
Deputy Director, Clean and Healthy New York
Bobbi has two decades of experience as an environmental health advocate. She has authored and co-authored numerous reports and guides including "Selling Safer Products" and organized the NYS Healthy Economy and Environment Conference of 2011.
Bob Rossi
Executive Director, New York Sustainable Business Council
Bob has been involved in business startups in software, manufacturing, and green building. Bob has also helped launch several nonprofits and currently owns and operates a coworking space and social enterprise incubator in Upstate New York.
"This workshop gave me a deeper understanding of the public health impacts of 'chemicals of concern' in commerce today and the importance of business leadership. I was very impressed with the resources available to help businesses measure and reduce their chemical footprints. Excellent workshop!"
— Camille Cannistraci, Principal of CLC Consulting
Wednesday, May 30rd 12pm-1pm: Food Packaging & Foodware
While food is essential to our lives, how we process and package our food can endanger our health. Businesses must now adapt not only to protect their customers from these health hazards but also to navigate a changing marketplace and regulatory environment. Join us for an in-depth webinar on which materials to avoid, smart alternatives, and resources for growing your business.
Speakers
Rich Schiafo
Campaign Coordinator, Clean and Healthy New York
Rich Schiafo has three decades of experience as an environmental professional including more recently watershed protection, materials management with a focus on organics, and the Reducing Chemicals of Concern in Products in NY State policy campaign.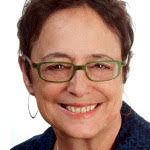 Hilary Baum
Program Director, New York Sustainable Business Council
Hilary has produced educational programs and public awareness campaigns focused on food, farming, and sustainability. Her background includes artisan food production, restaurant procurement, farmers' market operations, and community supported agriculture.
This workshop is part of Business Leadership on Safer Materials, a program of the New York Sustainable Business Council in collaboration with Clean & Healthy New York, American Sustainable Business Council, and NYS Pollution Prevention Institute. Funding provided by the NYS Pollution Prevention Institute through a grant from the Environmental Protection Fund as administered by the New York State Department of Environmental Conservation. Any opinions, findings, and/or interpretations of data contained herein are the responsibility of the author(s) and do not necessarily represent the opinions, interpretations or policy of Rochester Institute of Technology and its NYS Pollution Prevention Institute or the State.